Standard Bluebill 12pk
Product Features:
• Foam-Filled
• Weighted keel
• Multiple head postures
• Lightweight and packable
• Realistic details for finishing birds
• Short-stringing keel design
• Official Decoy of Ducks Unlimited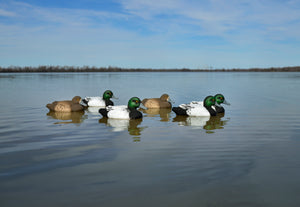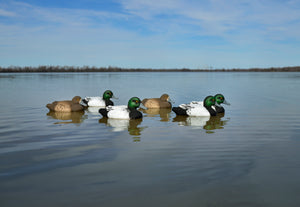 These Bluebills are high-contrast, bright, and ready to lure in those fast-flying diver ducks over open water. XHD Hyper-Feathering uses lifelike paint scheme and detailed carving to highlight each individual feather. Standard size decoys are slightly undersized from an average live duck, and are perfect for hunters looking for lightweight, packable, high impact decoys. Use them on their own, to pack in to your favorite public spot, or to add numbers and variety to any spread. New Forward-Weighted keel for quick and easy set-up in any water depth. Higdon's innovative keel clip allows simple short stringing in shallow water. Higdon's highly detailed, proprietary UV painting process and deep realistic carving techniques highlight each individual feather and minimize unnatural glare, even when decoys are wet. Our paint won't peel or fade, so your decoys will look great season after season. Package includes: 8 Upright Drakes, and 4 Resting Hens. Foam filled.  As a Ducks Unlimited Official Licensed Product, a percentage of your purchase will go toward wetland conservation.
Drake High: 11.5" inches Beak to Tail, 6.25" inches Wide; 14.32 oz;
Hen Rester: 11.25" Inches Beak to Tail, 6.25" Inches Wide; 13.37 oz;
*Dimensions and weights may vary
WARNING:
Cancer and Reproductive Harm:
www.P65Warnings.ca.gov