Battleship Diver Pack
Product Features:
• Weighted keel
• Unsinkable durability
• Extreme visibility from the air
• Realistic details for finishing birds
• Short-stringing keel design
• Official Decoy of Ducks Unlimited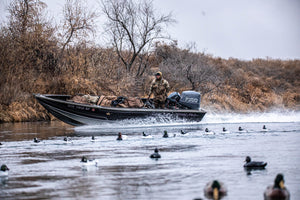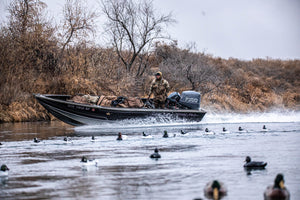 Big water and bright coloring is the name of the game when hunting divers. This all drake package is over-size and easy to see with super-bright whites, deep, contrasty blacks, bright head colors and tons of realistic feather detail. The Foam-Filled bodies and durable paint on these decoys justify that you have an indestructible rig that can withstand the rigors of abusive off shore hunting.
Make a huge impression with Higdon's biggest, brightest and most durable signature "Battleship" duck decoys. Add maximum impact to your spread with realism, dependability and extreme visibility from longer distances, with realistic details for finishing birds up close. Higdon set the standard for Foam Filling and these Battleships are unsinkable, so you never have to worry about shooting your decoys. Package contains different body postures, varied tail feathering and multiple head positions. Weighted keel for quick and easy set-up. Keel allows short stringing decoys for shallow water. Higdon's highly detailed, proprietary UV painting process and deep realistic carving techniques highlight each individual feather and minimize unnatural glare, even when decoys are wet. Our paint won't peel or fade, so your decoys will look great season after season. Package contents: 2 Canvsasback Drakes, 2 Bluebill Drakes, 1 Bufflehead Drake and 1 Goldeneye Drake. A percentage of your purchase will go to Ducks Unlimited to help with their efforts for wetland conservation.
Canvasback Drake High: 17.5 Beak to Tail, 8.875 Wide; 38.66oz;
Goldeneye Drake High: 15.25 beak to tail, 7.25 wide; 26.24oz
Bluebill Drake High: 16 Beak to Tail, 8 Wide; 31.34oz;
Bufflehead Drake High: 15.25 Beak to Tail, 7.375 Wide; 25.96oz;
*Dimensions and weights may vary
WARNING:
Cancer and Reproductive Harm:
www.P65Warnings.ca.gov